Commercial Fitouts South Yarra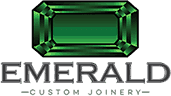 20+ Years of Experience
As part of our complete range of services, the Emerald team can assist you with commercial fit-outs in South Yarra. Trusted by interior designers, architects and builders, our professionals can implement joinery and furniture solutions for your corporate office, medical clinic, shopfront and more. Our commercial fit-outs in South Yarra provide everything from desks to shelving, counters to workbenches.
If you're looking for office fit-outs to bring new life to your corporate space, contact us today. Our office renovations and office refurbishments can provide everything you need, from furniture to joinery to partitions.
We also provide shop fit-outs and retail solutions. Reinvent your shopfront with our cost-effective retail fit-outs today.
For more information on how we can tailor our commercial fit-outs to your needs, contact us today. The team at Emerald Custom Joinery will consult closely with you to ensure all your requirements are met.
Hospitality and Restaurant Fit-Outs in South Yarra
If you're opening a restaurant or refurbishing a ballroom, Emerald Custom Joinery can assist you with your fit-out. Our custom furniture and joinery solutions are ideal for your hospitality and restaurant fit-outs in South Yarra.
When it comes to restaurants, we can add new features to your front-of-house and back-of-house environments, from the public-facing dining room to the highly practical kitchen. For warmth, durability, spaciousness and affordability, choose our restaurant fit-outs in South Yarra and see how we can help you. Our food fit-outs also cover cafes, takeaway shops, and other food service environments.
From event venues to ballrooms, hotels to cafeterias, we provide the most comprehensive hospitality fit-outs South Yarra has to offer. For accurate, affordable and lasting joinery solutions for the hospitality industry, consult with our expert team. We are proud to offer the hospitality fit-outs South Yarra managers and professionals have turned to for more than 20 years.
Emerald Custom Joinery proudly provides the best fit-out design and installation services at an affordable price. To take advantage of our renowned and detailed commercial fit-outs, South Yarra residents can speak to a member of our team by calling 1800 EMERALD or by sending an email to info@emeraldcj.com.au.