Shop Fitouts Croydon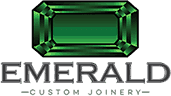 20+ Years of Experience
Commercial fit-outs should be attractive today and enduring for years to come, ensuring you and your customers can keep benefiting from a spectacular environment. Here at Emerald Custom Joinery, we specialise in shop fit-outs in Croydon and the surrounds and we can craft a long-lasting space that suits your needs. Whether it's a corporate office, a restaurant, or a retail setting, you can be sure that Emerald Custom Joinery has the solution.
Our shopfitters will combine incredible designs and high-quality workmanship in an affordable process that you can afford. With more than 30 years of experience, we can take your practical and aesthetic requirements and bring them to life in a way that suits your organisation.
Our commercial fit-out services include:
Office fit-outs, office renovations, and office refurbishments
Adding or removing partitions
Comprehensive shop fit-outs and shopfront fit-outs
Retail fit-outs
Hospitality fit-outs
Food fit-outs, including restaurants and cafés
Whether you need fit-outs for customer-facing or back of house environments – or a combination of both – Emerald Custom Joinery has you covered.
For more information on how we can assist you with custom commercial joinery and shop fit-outs in Croydon, simply have a chat with our team. The friendly and professional experts at Emerald Custom Joinery can provide advice and organise a consultation and quote for you. Call us on 1800 EMERALD or send an email to info@emeraldcj.com.au and we will get back to you as soon as possible.