Office Renovations Dromana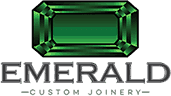 20+ Years of Experience
Offering a broad range of commercial fitouts and residential joinery services, Emerald Custom Joinery can help you to reinvent your home or business.
Our cabinet makers and furniture specialists provide a range of services for the home, including kitchen and bathroom renovations, bathroom vanities, walk in robes, and other custom furniture solutions.
Working throughout Dromana and other Melbourne suburbs, we can also assist you with a range of commercial fit out services.
If you're looking for office renovations in Dromana, we can assist you with everything from complete office fitouts to a minor office refurbishment. Dromana office managers can rest assured that our team is trusted by architects, builders, and interior designers; and we regularly work alongside these professionals.
When it comes to your office renovations in Dromana, the Emerald team can provide a wide range of durable, affordable, and spacious solutions. Whatever office furniture you need – from desks to chairs – we will offer a premium product at a competitive price.
Emerald Custom Joinery oversees the whole fitout process for you, from design to manufacturing and installation of our quality joinery products. This ensures quality control and timely work for your office refurbishment. Dromana professionals can contact us today for a quote and a full consultation on your needs. We will discuss your requirements and explain exactly how we can help you.
As well as office fitouts, Emerald Custom Joinery can also assist you with:
Hospitality fitouts
Restaurant fitouts
Medical fitouts
For expert project management from our joinery and furniture professionals, call us today on 1800 EMERALD.