Commercial Fitouts Dandenong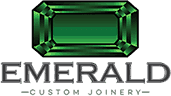 20+ Years of Experience
Offering a wide range of commercial joinery solutions, the Emerald team is proud to assist you with commercial fit-outs. Dandenong business owners can contact our team whether they're moving to a new office, launching a new business, or renovating their space. We can design, build and install custom furniture and joinery solutions to set the tone for your business. Our office fit-outs cover everything from office renovations and office refurbishments to the addition or removal of partitions.
Focusing on comfort, practicality and style; employees, managers and visitors alike will love what we can do with commercial fit-outs. Dandenong locals can contact Emerald Custom Joinery today to learn more about our commercial fit-outs services.
Shop Fit-Outs Dandenong
No matter what type of store you run, Emerald Custom Joinery can assist you with your shop fit-outs in Dandenong. Create impressive furniture and joinery solutions for your retail store, hairdressing studio, or café. Whatever you're looking for in your shop fit-outs in Dandenong, the Emerald team would be happy to provide. Accurate, competitively priced, and built to last, our retail fit-out services are designed to meet your needs and desires. Contact us today and ask us for a consultation on your needs. We can fit-out your new or existing space to ensure it perfectly reflects your business's needs in the long term.
Hospitality and Restaurant Fit-Outs in Dandenong
Hospitality and restaurant environments are all about making your guests feel at home. Add a touch of luxury, style and grace to your space with the team at Emerald Custom Joinery. We can assist you with all your front and back-of-house solutions when it comes to hospitality and food fit-outs and restaurant fit-outs. Dandenong restaurateurs can rely on the Emerald team to create attractive and comfortable furniture and joinery for staff and customers alike. When it comes to restaurant fit-outs, Dandenong chooses Emerald Custom Joinery for fine results at affordable prices. Trust our team to keep the costs down for you!
For complete hospitality fit-outs, Dandenong locals can also rely on our team. Do you run a café, a hotel, or an event space that needs to be expertly fitted out? For the hospitality fit-outs Dandenong managers and their guests can appreciate, don't just search the internet for "fit-out services near me". Talk to the team at Emerald Custom Joinery about seamless joinery solutions.
At Emerald, we're licensed and registered with the Victorian Building Authority, with a large factory, state-of-the-art machinery and accredited staff. If you're looking for the best commercial fit-outs, give us a call today on 1800 EMERALD or send us an email enquiry at info@emeraldcj.com.au.