Office Renovations Rosebud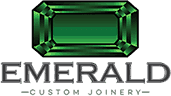 20+ Years of Experience
At Emerald Custom Joinery, we offer a wide range of high-end joinery solutions. Working with homeowners, office managers and a range of other industries, we manage the entire process from start to finish. If you're looking for custom cabinets, unique office desks, or other fine joinery services, we can help you.
Working throughout Melbourne's suburbs for more than 20 years, we can assist you with your office renovations in Rosebud. Collaborating with professional builders, interior designers, and high-end architects, we add the finishing touches that truly set the tone, style and professionalism for corporate office environments.
Managing the design, manufacturing and installation of joinery solutions, we ensure durability and affordability for your office refurbishment. Rosebud professionals are encouraged to get in contact with our team for a free quote and a consultation.
As well as office renovations in Rosebud, Emerald Custom Joinery can assist you with a range of other commercial fitouts and residential joinery.
Our commercial services include solutions for:
Medical fitouts
Hospitality fitouts
Restaurant fitouts
Office fitouts

Our residential services include solutions for:

For complete project management for your commercial and residential joinery, don't just search for "cabinet makers near me". Instead, contact the team at Emerald Custom Joinery for all the services you need. From detailed joinery for your home to a complex office refurbishment, Rosebud residents can call us today. Phone 1800 EMERALD or send an email to info@emeraldcj.com.au describing your project.