Office Renovations Seaford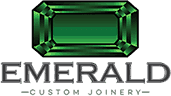 20+ Years of Experience
Are you opening a new corporate office, relocating your place of work, or planning an office renovation?
There are many things to consider when it comes to office fitouts, including all the furniture and joinery you need. At Emerald Custom Joinery, we regularly work alongside builders, architects and interior designers to assist with seamless office renovations. Seaford professionals can rely on the Emerald team to custom design, manufacture and install the office furniture, storage, and joinery they need. Working throughout Melbourne for more than 20 years, we specialise in fitouts, renovations, and office refurbishment in Seaford.
As well as office renovations, Seaford business owners can also rely on Emerald Custom Joinery for a wide range of other commercial fitouts. We can provide the furniture and joinery for your medical fitouts, hospitality fitouts, restaurant fitouts and shop fitouts. Simply talk to us about your needs and we will walk you through the process.
Our cabinet makers and custom furniture specialists are also proud to assist Seaford locals with their residential needs. Talk to Emerald Custom Joinery today for a wide range of residential joinery solutions, including assistance with:
Offering complete project management for large-scale jobs and small personal additions, Emerald Custom Joinery is truly here for you. Whether it's some new kitchen cabinets or an office refurbishment in Seaford, contact our team for advice and quote. Call Emerald Custom Joinery today on 0415 541 067.