Commercial Fitouts Doncaster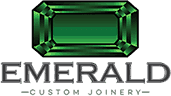 20+ Years of Experience
Emerald Custom Joinery offers the commercial fit-outs Doncaster business owners and managers trust. No matter what industry you're in, we can cater to your needs with our corporate joinery and furniture solutions. From office furniture to shop counters and solutions for the front and back of house, we are here for you.
Providing the commercial fit-outs Doncaster can rely on, we regularly offer solutions in the following industries:
Food Fit-Outs, including Restaurants and Cafes
Hotels and other Hospitality Fit-Outs
Medical clinics
Retail fit-outs
Office Fit-Outs, including Office Refurbishments and Office Renovations
And much more!
Whether you want to add or remove partitions or get the best fit-out design for an affordable cost, Emerald Custom Joinery is here for you.
Shop Fit-Outs Doncaster
When it comes to shop fit-outs, Doncaster locals can rely on Emerald Custom Joinery for all of their needs. Whether you're running a retail shopfront, a busy café, a pharmacy, a beauty clinic, or a local grocery store, we offer a range of solutions for you.
Our commercial joinery and custom furniture solutions focus on strength, style, and longevity, ensuring your new additions can be enjoyed and treasured for years to come. Offering end-to-end solutions for our clients, our shopfitters can design, fabricate, and seamlessly install all the elements we provide for your shop fit-outs. Doncaster businesses are encouraged to give us a call today to learn more about how we can help you.
At Emerald, we're licensed and registered with the Victorian Building Authority. For top-quality commercial fit-outs, Doncaster locals can give us a call today on 1800 EMERALD or send us an email enquiry at info@emeraldcj.com.au.