Hospitality Fitouts Fitzroy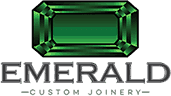 20+ Years of Experience
At Emerald Custom Joinery, we have been working with residential and commercial clients in Fitzroy and throughout Melbourne for more than 20 years. More than just expert cabinet makers, our team can assist you with kitchen and bathroom renovations, commercial fitouts, and much more.
Whether you're looking for walk in robes, bathroom vanities, custom furniture, or other commercial and residential joinery solutions, we can help you.
When it comes to commercial projects, Emerald Custom Joinery has worked with architects, interior designers and builders to perfect your fitout.
One of the areas we specialise in is hospitality fitouts. Fitzroy event venue managers, hoteliers, and other hospitality teams can rely on our experts to provide custom joinery and furniture for their fitout. Durable, spacious, accurate and affordable, our services will make the most of your available space to create comfort, practicality, and luxury.
To learn more about hospitality fitouts, Fitzroy locals are encouraged to contact our team today. Don't just search for "commercial fitouts near me". Instead, pick up the phone and see how Emerald Custom Joinery can help you.
Restaurant Fitouts Fitzroy
If you're looking for expert restaurant fitouts in Fitzroy, look no further than Emerald Custom Joinery. We proudly provide joinery and furniture for your front-of-house and back-of-house purposes. Trust the Emerald team for attractive chairs and tables for your dining area, as well as sturdy and durable benches and furniture for your commercial kitchen.
With expert project management from start to finish, our team will design, manufacture and install all the furniture and joinery you need for your restaurant fitouts. Fitzroy restauranteurs can rely on Emerald Custom Joinery to bring new life to their restaurant.
As well as restaurant and hospitality services, we can also assist you with: