Office Renovations Somerville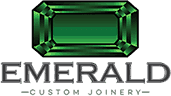 20+ Years of Experience
Invest in stylish, innovative and functional office solutions with the team at Emerald Custom Joinery. Working throughout Somerville and Melbourne's suburbs for more than 20 years, we provide highly functional and completely bespoke office design through our custom furniture and high-end joinery services.
If you're preparing for office renovations in Somerville, contact our team for durable, spacious and affordable furniture and joinery. We can work alongside builders, designers and architects to perfectly realise and execute your office refurbishment. Somerville professionals can call us today or send us an email to learn more about our office fitouts.
Looking for commercial fitouts in other industries? Emerald Custom Joinery can also assist you with hospitality fitouts, restaurant fitouts, medical fitouts and shop fitouts. We offer the same joinery and furniture solutions for a wide range of industries, effectively enhancing your commercial space.
As well as commercial and office renovations, Somerville residents can bring high-end joinery to their home with Emerald Custom Joinery.
Our residential joinery services include:
Custom furniture pieces
Construction of bathroom vanities
Design and installation for walk in robes

Offering a seamless project management process, Emerald Custom Joinery will ensure stress-free joinery solutions. Whether you're looking for residential cabinet makers or an in-depth office refurbishment, Somerville locals can come to the Emerald team. So, when you're looking for high-end joinery at a competitive price, don't just search for "custom furniture near me". Instead, pick up the phone and call Emerald Custom Joinery.

Call us today on 1800 EMERALD to arrange a consultation and a quote.