Hospitality Fitouts Brighton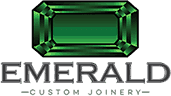 20+ Years of Experience
As part of our commercial joinery services, the Emerald team can assist you with medical, shop, office, hospitality and restaurant fit-outs. Brighton businesses trust Emerald Custom Joinery for long-lasting and attractive solutions.
The full range of commercial fit-outs available from our team includes shop fit-outs, retail fit-outs, hospitality fit-outs and office fit-outs. We can offer full office renovations and refurbishments for you, including the addition and removal of partitions, and much more.
Our hospitality fit-outs in Brighton focus on creating a space that is practical for staff and luxurious for guests. From hotels to event venues, cafes to restaurants, you can rely on our team to get the job done.
From our humble beginnings, Emerald Custom Joinery is now proud to assist home and business owners across Melbourne and Victoria. Whether it's a corporate shop-fitting for a new storefront or a home bathroom renovation, we can design, fabricate and install premium joinery solutions that meet your needs and desires.
Restaurant Fit-Outs Brighton
For expert restaurant fit-outs, Brighton locals can rely on us for front and back of house solutions, including joinery and furniture for your dining room, commercial kitchen, and even your office.
We focus on all food fit-outs, including café fit-outs and all other food serving environments. Whether it's a diner, a takeaway food shop, or a high-end restaurant, you can expect the best fit-out design and high-quality workmanship, all for an affordable cost. That's all part of the Emerald Custom Joinery promise.
For everything from home furniture to hospitality fit-outs in Brighton, don't just search "fit-outs near me". Instead, give us a call today. Phone Emerald Custom Joinery on 1800 EMERALD or send us an email enquiry at info@emeraldcj.com.au.