Office Renovations Mount Eliza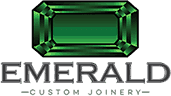 20+ Years of Experience
For visiting clients, potential partners, and incoming employees, your office is the first impression of your business. If you're upsizing, relocating, or opening for the very first time, it pays to put some thought into your office furniture and joinery.
At Emerald Custom Joinery, we can work alongside other industry professionals such as architects and builders to assist with your office refurbishment or office renovations. Mount Eliza professionals will love the unique joinery solutions and durable custom furniture we can create for their office space. Whether you're looking for classic warmth or sleek professionalism, we will provide the impressive office refurbishment Mount Eliza businesses can rely on.
Looking for a commercial fitout that suits your industry. Offering more than just office renovations, Mount Eliza locals can also benefit from custom joinery for our:
Restaurant fitouts
Medical fitouts
Hospitality fitouts
Office fitouts and commercial fitouts

With more than 20 years of experience, our cabinet makers and joinery professionals will breathe new life into your commercial space.

If you want to bring the same timeless style to your home, don't just search for "residential joinery near me". Instead, ask Emerald Custom Joinery for residential joinery solutions. From walk in robes and bathroom vanities to complete kitchen and bathroom renovations, we can provide the furniture and joinery solutions you need.

Each of our services is completely overseen by our project management professionals, from design to manufacturing and installation. Whether it's a statement piece of furniture for your living room or a complete office refurbishment, Mount Eliza locals will enjoy a seamless process and supreme quality with Emerald Custom Joinery.

To learn more about affordable, high-quality custom furniture for your home or business, call us on 1800 EMERALD or email us at info@emeraldcj.com.au today.