Commercial Fitouts Blackburn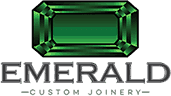 20+ Years of Experience
If you're looking for the best commercial fit-outs Blackburn has to offer, don't just search for "fit-outs near me". Instead, get in touch with the experts at Custom Emerald Joinery. We offer the affordable and high-quality services and solutions that you need. Whether it's for a restaurant, a hotel, a medical clinic or a corporate office, you can rely on our team.
We will design, manufacture and install cabinetry, custom furniture, bench space, desks, and everything else you need for your commercial fit-outs. Blackburn managers and business owners choose our team for quality, style, and longevity that doesn't sacrifice affordability!
Offering the best fit-out designs and affordable costs, our services include:
Office fit-outs
Office renovations and refurbishments, including partitions
Shop fit-outs
Retail fit-outs
Hospitality fit-outs
Food fit-outs, including cafés and restaurants
Shop Fit-Outs Blackburn
Your shopfront is one of the most important elements of your business. To create a wow factor whenever customers walk through your doors, ask us about our shop fit-outs in Blackburn. At Emerald Custom Joinery, we can apply our joinery and furniture expertise to provide fit-out solutions for your shop. Whether it's a hair and beauty salon, a greengrocer or a retail space, we can offer a range of innovative and affordable solutions. When you choose our team for shop fit-outs in Blackburn, our friendly experts will guide you from start to finish, making your ideas a reality.
For top-quality commercial fit-outs, Blackburn locals can call our shopfitters today on 1800 EMERALD or send us an email enquiry at info@emeraldcj.com.au.