Hospitality Fitouts Prahran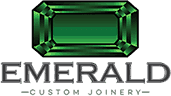 20+ Years of Experience
When it comes to hospitality and restaurant environments, you need a combination of comfort, style and practicality for your space. As well as this, you need to consider both customer and professional requirements.
At Emerald Custom Joinery, we can assist you with all your hospitality and restaurant fit-outs in Prahran.
Emerald Custom Joinery can work alongside interior designers, builders, and architects to assist with hospitality fit-outs in Prahran. From hotels and B&Bs to event spaces and tourism destinations, we will provide the innovative solutions you need. Choose our team for your hospitality fit-outs in Prahran and we will design, manufacture and seamlessly install the furniture and joinery you need.
Restaurant Fit-Outs Prahran
When it comes to restaurants, our team can provide front and back-of-house furniture and joinery solutions. From workbenches and front desks to stylish chairs and tables for your guests, our team can create a complete solution. Our restaurant fit-outs in Prahran are completely overseen by the Emerald team, ensuring quality and affordability from start to finish. Our restaurant services cover all food fit-outs, so whether you run a restaurant, a tuckshop, a diner, or a café, we are here to help.
As part of our commercial services, we can also assist you with complete office fit-outs, office renovations and refurbishments. This covers everything from furniture and storage to office partitions. We also offer shop fit-outs and shopfront services, medical clinic fit-outs, and a full range of retail fit-outs. For the best fit-out design and installation services at a cost you can afford, look no further than Emerald Custom Joinery.
Are you ready to renovate your business with new furniture? The best commercial fit-outs in Prahran and nearby areas are ready and waiting for you. Call Emerald Custom Joinery on 1800 EMERALD or send us an email at info@emeraldcj.com.au.