Joinery Toorak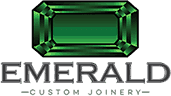 20+ Years of Experience
With over 20 years of industry-leading experience and training behind us you can trust the skilled and passionate team at Emerald Custom Joinery to design, build, and install detailed and accurate joinery that brings completion to your domestic or commercial environment. Whether you are after detailed bathroom or kitchen renovations, or you are in need of a partial or complete office fitout our talented and passionate team will work tirelessly to turn your vision into a reality.
Our expert joinery specialists have helped Toorak home and business owners upgrade their living and working environments with ease and efficiency. Using the best materials and components we can transform a bland, outdated, or damaged environment into a bespoke, detailed, and functional space made to suit your needs and requirements. From office fitouts, to commercial joinery, detailed kitchen design, installing bathroom vanities, and other works you can trust our team to put their needs first.
Bring out the best in your property thanks to the team at Emerald Custom Joinery. Our exceptional and detailed team work closely with our customers to guarantee that our works are as accurate as possible. For more information about our competitively-priced premium joinery Toorak locals and beyond are encouraged to call us today on 1800 EMERALD or email us at info@emeraldcj.com.au for a detailed and personalised quote.