Cabinet Makers Brighton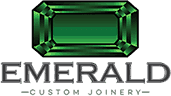 20+ Years of Experience
If you need top-quality cabinet makers, Brighton locals can call Emerald Custom Joinery today. With over a decade of experience making custom cabinetry for commercial and domestic clients, we're trusted by architects, builders and interior designers all across Melbourne. As premium custom cabinet makers, Brighton locals can benefit from our flexible, bespoke service.
Whether you need office furniture or shop counters, walk-in robes or kitchen cabinetry – or maybe something a bit unusual or fancy – we can assist you. At Emerald Custom Joinery, we're licensed and registered with the Victorian Building Authority. We also boast state-of-the-art machinery and fully accredited staff, making us the leading name in custom joinery and cabinet making.
If you're looking for the very best residential and commercial joinery services, don't just search for "cabinetry near me". Whether you're looking for kitchen cabinet makers or bespoke cabinetry for a boardroom environment, we are the team that can help. Bringing style and much-needed storage to every space we work on, our cabinets and joinery will reflect the practical and aesthetic needs of each individual room.
As local cabinet makers in Brighton, Emerald Custom Joinery can come to you fast and offer the best designs and workmanship for an affordable cost. We pride ourselves on working closely with all members of the community to meet their needs when it comes to cabinetry.
Get in touch with us today by calling 1800 EMERALD or sending an email to info@emeraldcj.com.au. We will get back to you as soon as possible with all the information you need.