Cabinet Makers Croydon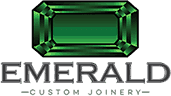 20+ Years of Experience
When it comes to expert cabinet makers, Croydon home and business owners can get in contact with Emerald Custom Joinery today. We have over a decade of experience making custom cabinetry for commercial and domestic clients. This is why we're trusted by architects, builders and interior designers all across Melbourne!
We are premium cabinet makers. When Croydon locals need office furniture or shop counters, walk-in robes or kitchen cabinetry – we're the ones to call. Emerald Custom Joinery is licensed and registered with the Victorian Building Authority and we have a large factory with state-of-the-art machinery and accredited staff.
With years of experience and expertise on our side, we can be the kitchen cabinet makers for your home renovations or bespoke cabinetry specialist for your commercial or retail environment. From fit-outs for new homes to hospital and medical cabinetry, we are the custom cabinet makers Croydon can rely on.
Residential or commercial, large or small, you can turn to our team when you're searching for "custom joinery and cabinet making near me". Combining the best designs and workmanship with affordable processes, we can provide you with stylish and spacious cabinetry at a cost that suits you.
Your search for local cabinet makers is at an end. When they're looking for cabinet makers, Croydon locals simply need to give Emerald Custom Joinery a call today. Phone us on 1800 EMERALD or send us an email enquiry at info@emeraldcj.com.au.