Cabinet Makers Rowville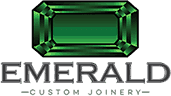 20+ Years of Experience
If you're searching to redesign your home or business with the help from premium cabinet makers, Rowville locals can ring Emerald Custom Joinery today! With over a decade of experience designing, building and installing premium cabinetry of all shapes, sizes and styles. Our services are flexible, affordable and friendly services – we're called on again and again to compliment the work of interior designers, architects and builders all across Melbourne.
As top quality cabinet makers, Rowville home and business owners can rest easy knowing we're fully licensed and registered with the Victorian Building Authority. We have the knowledge and ability to expertly design, manufacture and install anything from walk-in robes to shop counters, kitchen cabinets, office furniture and anything else you may need or want. We will work with you to create functional, stylish cabinetry and joinery.
Ring Emerald Custom Joinery today for a free quote and consultation on 1800 EMERALD or shoot us an email at info@emeraldcj.com.au.