Cabinet Makers Blackburn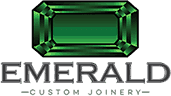 20+ Years of Experience
Are you looking for local custom cabinet makers? Blackburn residential and commercial property owners can depend on Emerald Custom Joinery for all their cabinetry needs. At Emerald Custom Joinery, we're the experts in all thing's cabinetry. With over 20 years of experience in the industry, there's no wonder high-end professionals such as architects, builders and interior designers trust the quality of our cabinet workmanship. We cater to all of Melbourne's surrounding suburbs; this means that whether you live in Doncaster or Blackburn, our cabinet makers can assist you!
If you are looking for reliable and proficient local cabinet makers in Blackburn, you can't go wrong with Emerald Custom Joinery. ​Home and business owners can give us a call today for any kinds of cabinetry or joinery, no matter what form it may take. As well as homeowners, we work with a range of industries to provide the cabinetry, joinery, and custom furniture solutions you need.
With years of industry experience and expertise, Emerald Custom Joinery can guide you from start to finish in the creation of brilliant cabinetry. Whether you know exactly what you're looking for or you need some design advice, come and talk to our team. Our cabinet makers will create stylish, spacious, and practical additions to your home or business, putting the finishing touches on any room. If you've been searching for "kitchen cabinet makers near me" or "local joinery services", we are the team to turn to.
Come and talk to our custom cabinet makers in Blackburn today. Providing the best bespoke cabinetry and joinery for an affordable cost, you can't go wrong with our team. Phone our local cabinet makers on 1800 EMERALD today.