Joinery South Yarra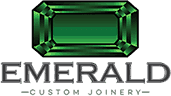 20+ Years of Experience
Change the shape and style of your home's interior thanks to the skilled and attentive professionals at Emerald Custom Joinery. With over 20 years of experience in the industry, our team has the skills, qualifications, and training to add beauty, character, and functionality to your domestic or commercial space.
At Emerald Custom Joinery, we offer the detailed and durable joinery South Yarra and Melbourne locals will love for years to come. The team at Emerald Custom Joinery takes into account all the details and intricacies of your environment. Consulting closely with our valued customers; our skilled designers, fabricators, and installers work together to provide home and business owners with superior joinery and cabinetry that is accurate and lasts for longer.
Our joinery specialists are expert custom cabinet makers and we can assist you with a range of bespoke cabinetry solutions. Whether you're looking for kitchen cabinet makers at home or commercial joinery and cabinetry, we're here to help. You'll get the best custom furniture, cabinetry, and joinery all at an affordable cost when you choose the Emerald team.
As a part of our complete joinery services and solutions, the Emerald team proudly offers:
Office fit-outs
Commercial joinery
Kitchen designs
Bathroom vanities
Custom cabinets
And more
Whether you are a business in need of comprehensive shop fitting, or you want to complete kitchen and bathroom renovations, our experts are on hand to ensure that your project is completed in a timely and cost-effective manner.
If you're looking for the best custom furniture and joinery South Yarra has to offer, don't just search for "local cabinet makers near me". Instead, get in contact with the team at Emerald Custom Joinery today.