Cabinet Makers Richmond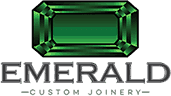 20+ Years of Experience
Are you considering enhancing your residential or commercial property with custom-designed furniture? Richmond's best cabinet makers are Emerald Custom Joinery. We have more than a decade of experience designing and building custom made furniture for a wide array of domestic and commercial clients. In this time, Emerald Custom Joinery has become the first choice for many locals, high-end architects, interior designers and builders throughout Melbourne. If you're looking for trusted cabinet makers in Richmond or surrounding suburbs, call Emerald Custom Joinery today for more information on our services.
We believe that we are one of Melbourne's top cabinet makers, providing Richmond home and business owners with premium workmanship and excellent service. Our skills and services range from joinery to cabinetry and everything in between. We design, build and install everything from walk-in-robes to kitchen cabinets, shop counters to office furniture.
Working closely with you, Emerald Custom Joinery can act as your kitchen cabinet makers at home or custom cabinet makers for your business. Whether it's residential or commercial, we will deliver bespoke cabinetry and joinery that rises above the rest. So, if you've been searching online for "local cabinet makers near me", simply pick up the phone and give us a call.
Emerald Custom Joinery will get you started with an affordable quote on the best cabinet design and workmanship available today. We pride ourselves on providing cost-effective solutions that add style and space to every environment.
If you're looking for expert cabinet makers in Richmond, you can't go wrong with Emerald Custom Joinery. Call us today on 1800 EMERALD or email info@emeraldcj.com.au.