Medical Fitouts Bayswater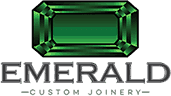 20+ Years of Experience
Your medical clinic should be designed for patient and practitioner comfort and accessibility. To ensure the very best for your clinic, invest in custom joinery and furniture from the Emerald team. Our professionals can work with you to plan, design and install everything you need for your medical fit-outs in Bayswater.
Whether you're a dentist, an optometrist, a general practitioner or another healthcare professional, we can assist you. From the front desk to waiting room chairs and office desks for your practitioners, talk to the team at Emerald Custom Joinery.
When you partner with Emerald Custom Joinery, we will work closely with you to understand the unique needs of your business and your medical environment. You can be sure that your fit-out is planned, designed and executed in a way that reflects the values and requirements of your organisation.
We are the healthcare fit-out professionals, so whether it's medical clinic fit-outs, dental clinic fit-outs or another healthcare environment, we can help you. Get the best fit-out at the most affordable cost with Emerald Custom Joinery!
Whether it's medical cabinetry or complete medical fit-outs in Bayswater, we would be more than happy to help. For more information, call 1800 EMERALD or send us an email at info@emeraldcj.com.au. We can help you get more out of your next medical fit-out!